Hospital Marketing
Every hospital holds patient care as its top priority. Access to the best equipment and experienced health care professionals are leading contributors to a hospital's ability to provide effective care, but there are other factors at play, too. Before your institution can treat patients, people who need care must recognize you as an option. Implementing an effective hospital marketing strategy is an essential part of drawing patients to your facility.
At Jewel Precision, we develop useful products for health care practices that enhance their branding strategies. Customized sterilization cases that feature your organization's name, logo or other messaging will help your organization signal to patients that you provide dependable health care services.
Why Is a Consistent Brand Message Important?
Creating a consistent brand message is essential for hospitals and other health care organizations because it solidifies your company's place in your patient's minds. When patients seek health care services, they gravitate toward the most memorable providers.
Regardless of the care quality your competitors provide, if your patients think of them before you, they'll visit their website, call their number or stop by their facility first. Developing a strong brand identity will help retain patients and increase your chances of finding new ones.
What Are Some Useful Hospital Branding Strategies?
Marketing strategies increase patient awareness of your medical facility, making them a valuable part of your operations. Hospitals can bolster their branding strategies using several tactics, such as:
Building an online presence: Backing your brand with an informative, user-friendly website, an engaging social media page and close attention to search engine optimization (SEO) is a great way to build patient awareness. Hospitals can even include current patients as a part of this process by asking for reviews on their webpage.
Sending marketing emails: With a database of current or prospective patients at hand, your information technology (IT) team can send informative emails that discuss common diseases or injuries, new treatment methods or newsworthy stories about what's happening around the facility.
Boosting employee engagement: Your staff can be the best marketing tool for your organization. When employees hold positive feelings about your hospital and their roles within it, they'll be great spokespeople for your brand.
Controlling what you can: You're in control of your hospital, so use it to reinforce a consistent brand identity. Place your name, logo and other branding messages on as many visible surfaces as possible, from uniforms to wall decorations and even medical equipment.
How Can Customized Sterilization Cases Improve a Hospital's Marketing Strategy?
Sterilization cases are an essential part of maintaining a clean, healthy environment for treatment and healing. Every hospital uses sterilization cases and trays to hold their reusable equipment and supplies during the sterilization process. Like any in-house feature of your hospital, sterilization cases present an opportunity to solidify your brand identity.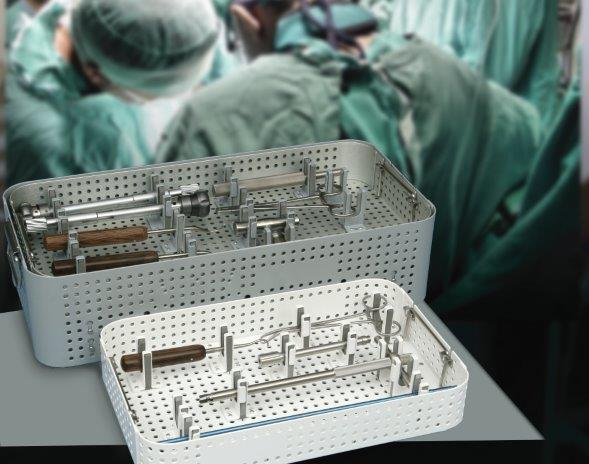 When hospitals purchase custom sterilization cases from Jewel Precision, they benefit from sound, protective autoclave-compatible equipment that expedites the sterilization process and boosts brand association. We'll construct a customizable tray that features your brand name, colors, logo, graphics or any other messaging you need.
With custom sterilization trays from Jewel Precision, you'll increase positive brand association by investing in your hospital's professional appearance. Patients appreciate seeing hospitals use sterilization tactics because it shows them they can trust their health care provider. Customizable sterilization containers that feature your brand imagery will place your hospital at the front of patients' minds when they think of clean, professional health care facilities.
Contact Jewel Precision
For more information on how custom sterilization cases can improve your hospital's marketing strategy and bring other benefits, contact Jewel Precision today!