Modular Sterilization Cases for Medical Equipment
If you work in the medical field, you understand the importance of keeping your surgical tools and implants organized and protected against deterioration and damage. With modular orthopedic sterilization cases, you can ensure that your most vital devices are secure and arranged in an orderly fashion. When you purchase modular surgical instrument organizing systems (SIOS) at Jewel Precision, you'll enjoy the many benefits of our simple and efficient product design and innovative features.
At Jewel Precision, we create sterilization instrument cases comprising the highest quality materials and advanced design characteristics. We've manufactured products for the medical industry since 1984, and we're still committed to building excellent container systems over 35 years later.
Our Modular Surgical Instrument Organizing Systems
We understand the challenges of storing and transporting valuable medical tools safely and efficiently. That's why we created hybrid organizing and sterilization systems that set the standard for quality and innovation, helping facilities organize and maintain their instruments with ease.
When you purchase modular sterilization cases for your medical equipment, you can ensure that your tools are safeguarded against damage for years to come. Our general surgical instrument trays and cases come with many durable features and built-in design benefits that your organization can rely on.
Protection Capabilities
Our modular cases do more than keep your surgical tools contained and organized — they're also designed to enforce optimal protection for your equipment.
Our SIOS cases, brackets and trays are made with durable materials that aid in shielding medical devices against the dangers of shipping and handling. These modular systems are also effective in fending off the harsh impact of sterilization, preventing long-term corrosion.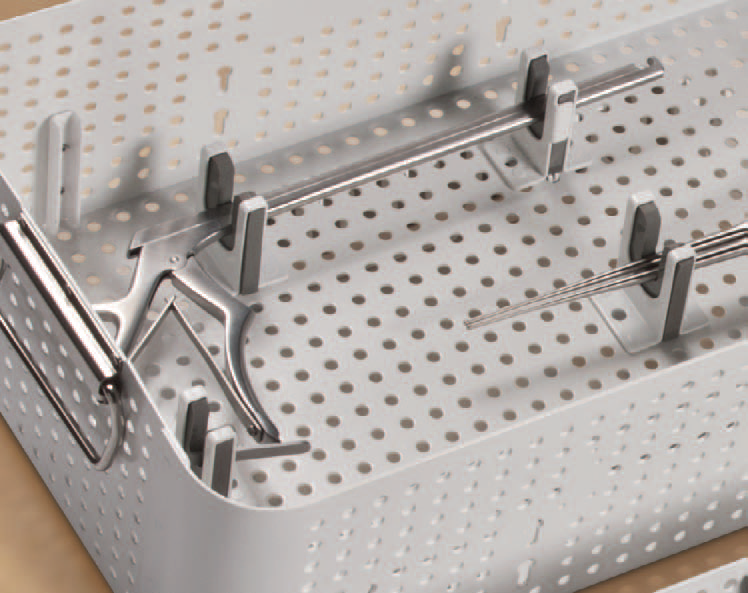 Product Versatility
Our standard sterilization instrument cases are available in various sizes, coatings and system designs that you can choose from to accommodate your instrument storage requirements. We have both single- and bi-level container systems available in clear anodized aluminum, white nylon and gray nylon.
All our instrument sterilization trays come with a cover that allows for single-level utilization. You can also convert your trays into bi-level systems by pairing them with an outer case.
Exclusive Nylon Coating
Our modular sterilization cases boast a sturdy nylon coating that you can't get anywhere else.
We designed our exclusive polymer layer to embrace remarkable resilience and durability, providing medical facilities with an excellent alternative to plastic and stainless steel cases. When applied over aluminum products, our nylon coating takes on the appearance of plastic without the challenges of fragility or water retention.
We conducted rigorous testing to ensure the quality of our nylon coating. Through these evaluations, we discovered that even after seven years of continuous use under harsh steam autoclave environments, our nylon materials showed no signs of degradation.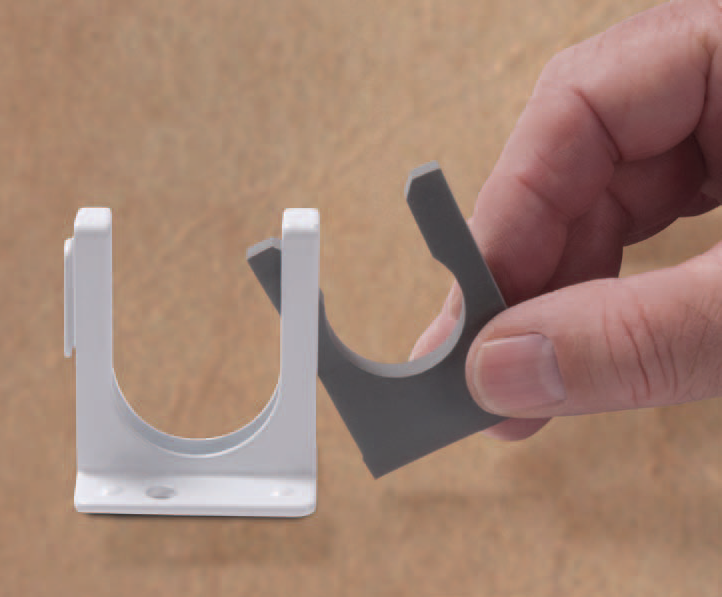 Innovative Brackets
Our modular orthopedic cases feature nylon-coated brackets with pliable inserts. These SIOS brackets come with special locating pins that allow for simple instrument reconfiguration. All you have to do is generate a layout that works for you and screw the brackets into place, and you're ready to transport your medical materials wherever you please without the risk of damage. Our brackets ensure ample protection with secure housing features in our sterilization containers.
All of our SIOS bracket inserts are interchangeable, allowing users to switch out silicone inserts for different sizes without requiring a new bracket shell. We have many bracket slot sizes in stock, with single-slot and multiple-slot brackets ranging from 1 millimeter to 9 millimeters in length.
Our multiple-slot brackets are available in various configurations, including:
Two slots.
Four slots.
Six slots.
Eight slots.
Ten slots.
Marketing Features
When you purchase modular cases and instrument trays at Jewel Precision, we'll customize them to enhance your products' marketability. We have silk-screening capabilities that we can use to print your hospital, surgery center or medical facility's logo on any part of your sterilization case. You can choose to display your graphics on the outer case, mini tray, cover or inner tray for the best visibility.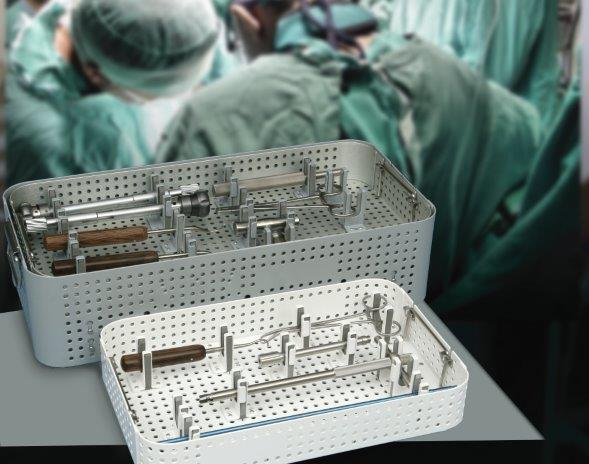 Organization
Jewel Precision makes it simpler than ever to arrange your facility's equipment. You can easily organize your medical tools with our collection of modular case accessories. Our systems are built to promote optimal storage for your instruments while allowing for the fastest possible times for instrument sterilization.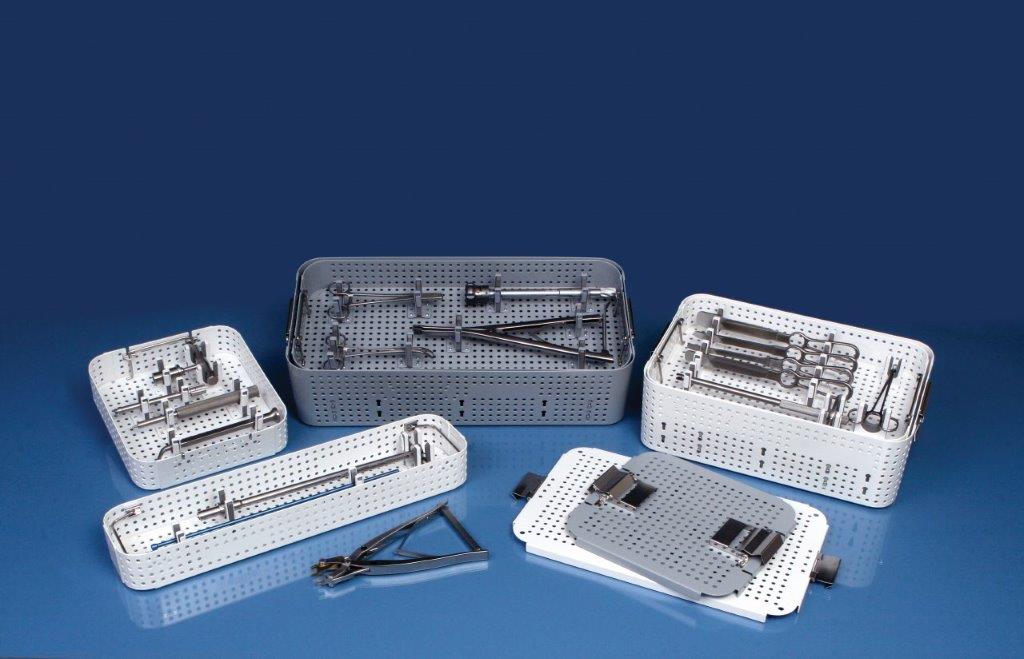 Why Choose Jewel Precision for Modular Surgical Sterilization Trays?
We got our start manufacturing sterilization trays for the medical industry over 35 years ago. As the first company to create these innovative storage products, we are leaders in our field.
At Jewel Precision, we hold ourselves to the highest quality and design standards. As an industry leader and one-stop shop for medical cases and sterilization instrument trays, we produce outstanding systems that are unmatched by other companies. We set ourselves apart from the competition with these exclusive benefits:
Competitive prices
Low development fees
Customization capabilities
Excellent customer service
Autoclave-compatible products
Request Your Free Quote  View Modular Catalog
Purchase Modular Instrument Sterilization Trays and Cases for Your Medical Equipment
For high-quality surgical instrument organizing systems you can trust, choose Jewel Precision. Our protective cases are your solution to secure and reliable storage and sterilization.
Contact Us Today
Learn more about our products.