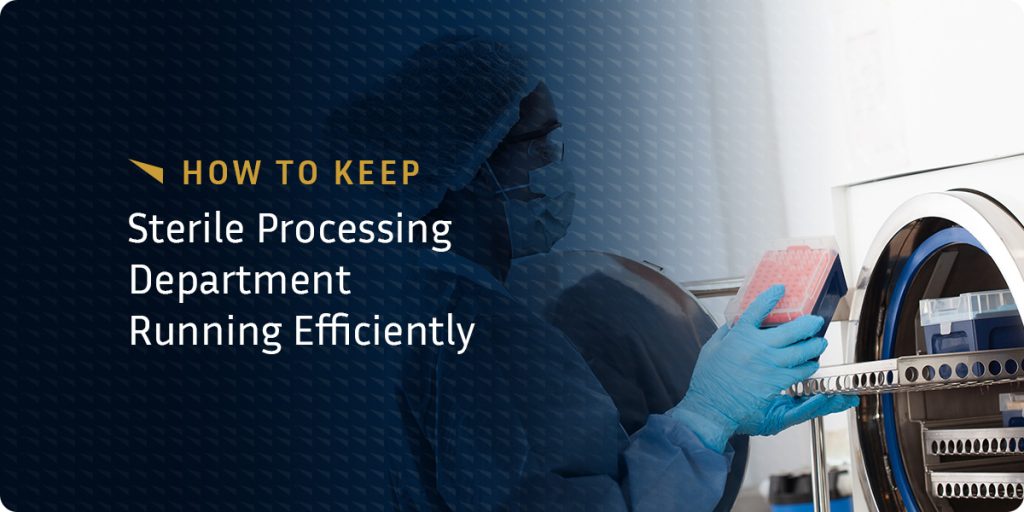 The sterile processing department plays an essential role in hospitals. Sterilization technicians are responsible for decontaminating medical equipment and preparing it for upcoming procedures. The department helps sterilize the hospital tools for patients and other health professionals.
Hospitals rely on these departments' efficiency. Sterile processing units must thoroughly clean medical equipment and process it quickly so doctors and surgeons have an adequate supply of tools. Technicians have to find a balance between meticulousness and speed without compromising either. These factors can make the concept of improved efficiency seem challenging.
Here are some tips on how to improve efficiency in a sterile processing department.
The Importance of a Well-Managed Sterile Processing Department
Having a well-organized sterilization department is integral for hospitals and healthcare facilities. The department is important for many reasons, including:
Improved safety: A sterile processing department's most critical job is keeping patients and doctors safe. If they don't properly sanitize equipment, bacteria or other infections could build on the tools. This puts patients at risk during surgeries and other procedures. Sanitization technicians use thorough cleaning procedures, from the initial decontamination to redistribution. In turn, patients have the highest-quality equipment during critical procedures.
Smoother hospital efficiency: A well-managed department also aids the efficiency of the entire hospital. Maintaining a consistent flow of sanitized tools helps the hospital stay on schedule for procedures. Surgeons can start on time, allowing the schedule to flow precisely as it should. The more efficient a hospital is, the more satisfied patients become.
Overall, the sterile processing department must stay well-organized so it can provide sterilized equipment for the hospital.
5 Tips for Managing a Sterile Processing Department
If you're wondering how to keep a sterile processing department efficient or need to improve efficiency, you can try many strategies.
These are five ideas for how to make a sterile processing department faster and more organized.
1. Reevaluate Training and Education Procedures
Sterile processing technicians require thorough training before they can begin their job duties. They should have a comprehensive knowledge of concepts like:
Proper decontamination procedures
How to use various substances and machines during sanitation processes
How to safely package and store medical utensils
Basics of anatomy and physiology
Without sufficient training, the sterilization unit can't run with optimum efficiency. Even a single technician who doesn't fully understand a process could slow progress for the entire department. And the correct knowledge is essential in this position, where patients' safety is at stake.
If you notice issues with thought gaps in your staff, it might be beneficial to reevaluate your policies and procedures for the sterile processing department. Ensure that your training procedures are thorough and don't leave questions unanswered.
One way to begin this evaluation is by encouraging staff members to speak about processes that confuse them. You can then address these concerns directly and clarify any questions.
It might also be beneficial to have a group training session with the entire staff. You can refresh everyone on procedures and get the whole department on the same page. Or, make extra training periods available so team members can build their expertise when it works best for them.
2. Recruit New Staff
Another option for a sterilization department is to recruit new department members. This practice is especially beneficial if efficiency is low because you are understaffed or if you notice low motivation, many employees showing confusion or high turnover rates.
Hiring new staff with high levels of experience and knowledge can improve your entire unit's efficiency rates. The new hires can refresh your workspace and might be able to assist other staff members with questions. If you require every new technician to have a certification, your department will grow in expertise.
You can work with your hospital's HR department to create innovative recruitment ads or work with outside hiring services.
3. Improve Leadership and Communication Techniques
Another way to increase efficiency is with improved communication and leadership. The sterilization processing unit is often disconnected from other hospital activities. Because of this, the departments need strong leadership that frequently communicates with other hospital executives. By working more closely with other departments, leaders can build rapport and speak up more on the sterilization department's behalf.
Strong leaders can also direct the unit's operations more closely, increasing efficiency. They should:
Assign clear tasks to appropriate team members
Ensure that the unit completes their necessary jobs each day
Offer advice on how staff can improve
Voice concerns, questions and updates with other hospital executives
Be able to answer questions about sterilization techniques thoroughly
Ensure that the supervisors for the sterilization unit have these capabilities. With improved guidance, your department could complete its tasks more efficiently.
4. Inspect Your Physical Capacity
If sterile processing technicians don't have enough space to perform their work, they might have difficulties completing their procedures. The department should have adequate space for both sterilization procedures and processing. Basic tasks could take longer without enough space, and technicians might get discouraged, decreasing productivity.
A lack of space might be hindering your unit's efficiency. Analyze your unit space and ensure all technicians have enough room to perform their jobs. You can also look into best practices for how to organize sterile processing departments.
If there isn't sufficient space, you could:
Rearrange the room's layout to maximize capacity
Move to a larger space
Expand into two rooms
5. Invest in New Storage Equipment
One of the most important aspects of a sterilization unit is its storage procedures. The department is responsible for properly cleaning and storing medical tools until their next use. The correct storage techniques keep equipment safe and extend its life span. These methods also allow you to process equipment more easily and increase efficiency.
These departments must have updated and high-quality storage materials. Equipment such as Jewel Precision's custom sterilization cases can ensure your tools stay protected during and after sterilization procedures.
If you notice a lack in speed during processing and distribution, new storage equipment might be just what your unit needs.
Improve Your Efficiency With Jewel Precision Equipment
At Jewel Precision, we understand the necessity of sterilization department efficiency. Our high-quality sterilization containers and other products help these units stay organized and safe. Improve your department's efficiency rates with innovative and effective storage solutions.
Contact Jewel Precision today to learn more about our sterilization cases and how we can help your department.